You're now at:
12
Van Riebeeckstraat
Archives and literature on the street names of Utrecht do not reveal to which Van Riebeeck this street refers. There are two possibilities. One is Abraham van Riebeeck (1653-1713), governor-general of the VOC between 1708 and 1713. During his five-year rule, the tin mines at Banka were discovered and he focused on the promotion of coffee planting in Java (1).
Another possible figure is Abraham's father, Jan van Riebeeck (1619-1677). As a navigator and governor, Jan van Riebeeck is known as the 'founder' of the Cape of Good Hope in South Africa and is more famous than his son in Dutch historiography. After having made a career in the Dutch East Indies, Van Riebeeck was sent out in 1651 to set up a resupply post and naval base along the route to India. He found Cape of Good Hope a suitable place for such a post. Van Riebeeck and his co-settlers had been commissioned by the
Heren XVII
, the commanders of the VOC, to establish a fort upon arrival and to further develop the area. Communities of the Khoikhoi and San peoples (collectively called Khoisan) were however already established in this part of South Africa. According to archaeologists, the Khoisan communities have a history of thousands of years in the area.
At first, Van Riebeeck banned his co-settlers from appropriating land. When the trade with the Khoikhoi did not turn out to be enough, the Dutch settlers started to grow their own products. This meant that the Dutch needed more space for cultivation and soon appropriated Khoikhoi land, disregarding previous efforts at cohabitation. Van Riebeeck also encouraged imports of enslaved people from eastern colonies to cultivate the land and build the necessary infrastructure (2). The extent to which the relations deteriorated can be read in the
Daghregister
from 1655, in which van Riebeeck describes the reaction of the Khoikhoi to the Dutch: 'You have taken possession of our country, and you are constantly building and will not leave. That's why we do not want to trade animals with you anymore because you have already taken the best pastures for the cattle (3).'
In 1662, Jan van Riebeeck left for the Indies, where he became president of Malacca. In 1665 he was promoted to Secretary of the Governor General. Unlike his son, Jan van Riebeeck was never able to achieve his ultimate goal: becoming governor-general (4).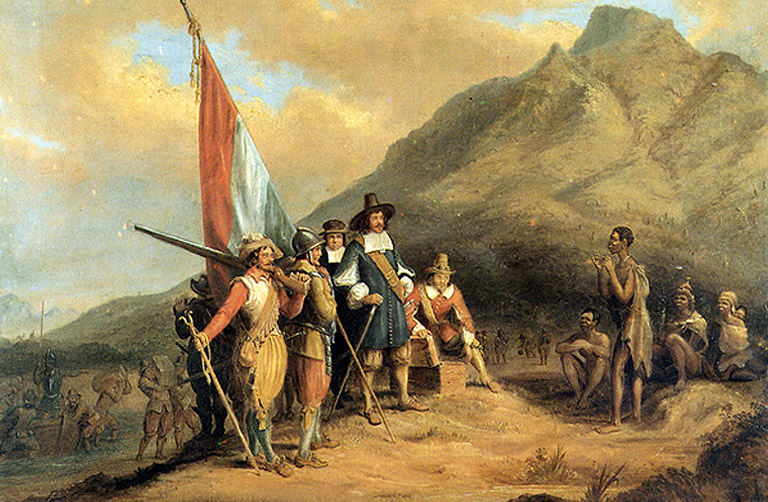 Charles Bell, Jan Van Riebeeck at the Tafelbaai on April 1652. Source: Wikimedia Commons.
Notes
L.P. van de Putten, Ambitie en Onvermogen: gouverneur-generaals van Nederlands-Indië 1610-1796 ; Pim de Zwart, 'Koffie, wereldhandel en consumptierevolutie', in: Lex Heerma van Voss et al. (eds), Wereldgeschiedenis van Nederland (Amsterdam 2018), 275-279.
M. Gosselink, Maria Holtrop and Robert Ross, Goede Hoop: Zuid Afrika en Nederland vanaf 1600 (Amsterdam: Rijksmuseum, 2017), 31.
Ibid, 59.
Willem-Pieter van Ledden, Jan van Riebeeck tussen wal en schip: een onderzoek naar de beeldvorming (Hilversum: Uitgeverij Verloren, 2005), 27.
Directions to:
1
Molen de Ster
Finish the tour back at Molen de Ster. Turn right on Van Riebeeckstraat in the direction of the Parkschool. You will enter the small Molenpark. Turn left towards Molen de Ster.