About us
In August 2016, a group called
De Grauwe Eeuw
wrote a letter to the municipality of Utrecht, calling on them to stop 'romanticizing the colonial past of the city'. A few months later, the group took further action by distributing flyers at Utrecht City Office, again pleading an end to the city romanticizing its colonial past. These two events signalled the beginning of this project. On 15 May 2017, at a human rights café at the
Molen de Ster
, activists and residents discussed what action was to be taken regarding Lombok's 'colonial' street names. It was decided not to get rid of the street's names but instead to shed a different light on them.
In February 2018, this working group was expanded and a collaboration with the municipality and Utrecht University was initiated, with Master's students from the Cultural History programme deployed to investigate the colonial 'heroes' after which the streets are named. The municipality of Utrecht wanted to use the historical information provided by the students to create a walking route. This route is, therefore, the work of the students in collaboration with the original workgroup. Our
Bitterzoete Route
has been inspired by previous initiatives in the area, including the 'Linking Lombok (
Linken Leggen Lombok
)' route created by Kosmopolis Utrecht, the Moluccan Historical Museum and Papua Cultural Heritage Foundation.
Markings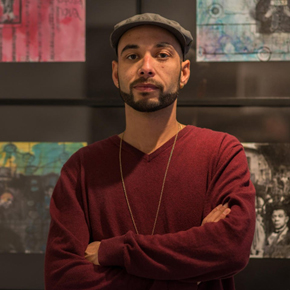 Raul Balai, de maker achter het logo en de markeringen van de Bitterzoete Route
Raul Balai is a designer who lives and works in Amsterdam. He uses his multi-ethnic heritage to highlight cultural clashes and challenge common racial stereotypes. For our project, he designed the markings for all locations and the logo of our working group: a VOC ship. This logo was chosen because of its multiple meanings. For example, the VOC ship can symbolize the dark side of the colonial spice trade and the lives lost during the VOC era. But a ship can also signal a route towards a certain goal, suggesting movement towards change. Balai's inspiration for the ship comes from depictions of East India Company ships by the seventeenth-century maritime painter Reinier Nooms (1). The Drina font used for the logo resembles the graffiti that can be found in an ordinary street scene.
The most used VOC ship was the mirror return ship in the seventeenth and eighteenth centuries. The construction time of such a ship lasted five to eight months and the ship could last an average of fifteen years. A replica of such a ship can be found at Bataviastad in Lelystad.